265 L GIRAUD-GALIANA® TONNEAU FRENCH OAK
PRODUCTION: Giraud-Galiana/ Cognac, France
WOOD/ ORIGIN: French Oak/ Centre France
SIZE/ TYPE: 265 l Tonneau
DIMENSIONS: 95 cm (Height)/ 74 cm (Ø Bilge)/ 60 cm (Ø Head)
TOASTING: Light/ Medium/ Medium +/ Heavy
LASER BRANDING (barrel head): Please select the option above and email us your logo file separately to [email protected] stating the order number. 
DELIVERY TIME: Approx. 30 working days

OPTIONS:
36 months wood drying: € 40,-
Black hoops: € 30,-
Toasted Heads: € 30,-
Laser Branding: € 12,50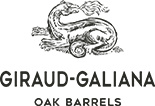 Giraud-Galiana is one of the most exclusive cooperages of the new generation in France and guarantees wood from the finest and oldest forests in Central France, Russia and Eastern Europe. Continious improvement of traditional barrel-making has created modern, innovative production processes to meet today's customer demands for premium wines.

Giraud-Galiana prefers a long and natural seasoning period of the wood of 24 to 36 months depending on the quality level. Methods used ensure to give the oak all physical and chemical characteristics that are necessary for maturing great wines.

NOTE: Our products are only sold to companies or traders following § 14 of the German Civil Code. Consumers are clearly excluded from completion of a contract! Actual barrels / casks may differ from displayed sample images!
0
stars based on
0
reviews