225 L MAURY & FILS® BARRIQUE BORDEAUX CHATEAU TRADITION FRENCH OAK
PRODUCTION: Maury & Fils®/ Bordeaux, France
WOOD/ ORIGIN: French Oak/ Centre France
SIZE/ TYPE: 225 l Bordeaux Chateau Tradition
DIMENSIONS: 95 cm (Height)/ 69 cm (Ø Bilge)/ 57 cm (Ø Head)
STAVES: 27 mm
TOASTING: Medium/ Medium +/ Light Long Double
LASER BRANDING (barrel head): Please select the option above and email us your logo file separately to [email protected] stating the order number.
DELIVERY TIME: Approx. 30 working days

OPTIONS:
Light Long Double Toasting: € 40,-
36 months wood drying: € 40,-
Extra tight grain: € 45,-
Black hoops: € 35,-
Laser Branding: € 12,50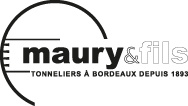 Tonnellerie Maury & Fils was founded in Bordeaux in 1893 and is one of the most traditional and exclusive cooperages. The company is now managed by Mathieu Maury in the fourth generation. The name Maury has always had an incomparable reputation as a premium cooperage, so that 90 % of the total production is delivered to Grand Cru Classé Châteaux.

The foundation for the quality of the barrels lies in the extraordinarily strict quality requirements of the selected oaks and the complex production process. Maury barrels focus on the expression and structure of the wine. The barrels allow the fruit to remain in focus - the wine gets fullness and excellent aromas. The versatility of the barrels makes them suitable for a wide range of wines.

DOWNLOAD: Guidelines for new barrels

NOTE: Our products are only sold to companies or traders following § 14 of the German Civil Code. Consumers are clearly excluded from completion of a contract! Actual barrels / casks may differ from displayed sample images!
0
stars based on
0
reviews